Different types of tube bends can be referred to by more than one title in New Zealand. It's important to know the difference between short, medium, and long which can be mistaken for determining the radius of the bend. Short, Medium and Long Tube Bends are all produced according to the AS1528.1 standard for Stainless steel tube fittings for the food industry
We stock them in both 304 & 316 grade stainless steel.
The medium bend is the largest seller and is a standard bend across most industries. Other bend types may be used in expanded or condensed situations and to align with existing process lines.
SHORT BEND
Our short bend has a tight radius which measures 1.5x the diameter and no leg, so a 25.4mm Bend has a radius of 38.1mm.  We stock our short radius bends from 1" to 8".
Short radius
No leg (with exception to 1 1/4″)
MEDIUM BEND – UNI
Our medium bends have the same centerline radius as our short bends, but with an extended leg. The leg refers to the straight tube after the end of the curved part of the bend. On most sizes of our medium bends, this leg is 30mm past the end of the curve except for 5" & 6" sizes which have a 40mm leg. Medium bends are the most commonly used tube bends in New Zealand. We stock medium bends in sizes from ½" to 6".
Short radius (same as the Short Bend)
30-40mm straight leg each end
Also known as a UNI type bend
Most commonly used
LONG BEND – NZ
The Long Radius bend has a larger radius than both short and medium bends. It differs across the sizes but is between 1.8 – 2x the diameter. Measurements for the radius are available on our website. The Long Radius bends also have a longer leg on them which once again differs across the sizes. Our long radius tube bends are stocked from 1 ¼" up to 3".
Long radius
30-40mm straight leg each end
Also known as a NZ type bend
Example: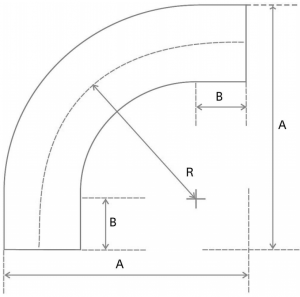 A= Bend length
B= Bend leg
R= Radius