Depending on temperature difference, warm piping releases heat into the environment. The thermal emission
from Stainless Steel and Carbon Steel pipes can be seen in tables 22 and 23.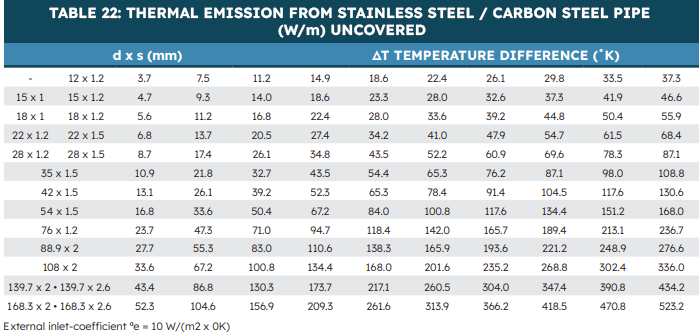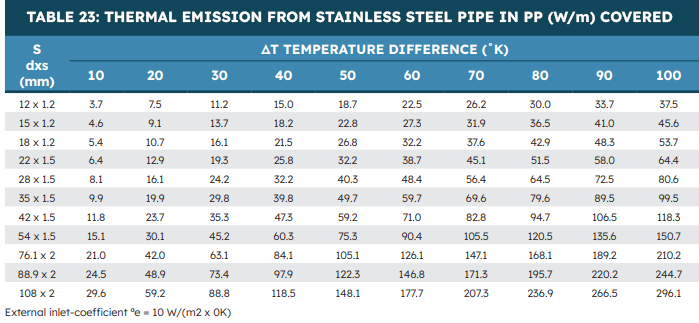 Thermal emission of Copper and Copper-Nickel pipes are shown in the following table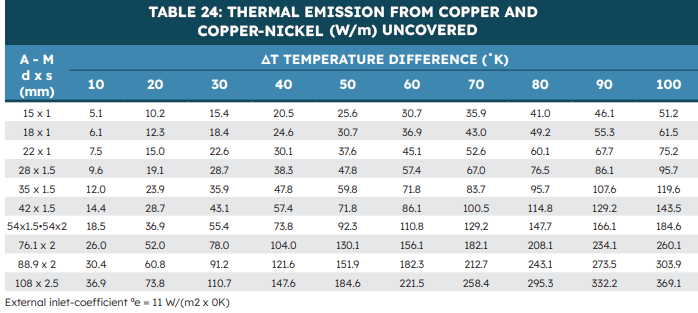 Insulation
To minimise the unwanted thermal emission from piping, the minimum insulation thicknesses should be maintained.
The following rules must be observed:
• DIN 4108 Thermal insulation in buildings;
• Energy Saving Ordinance (EnEV);
• Thermal Insulation Ordinance (WSchutzV).
Furthermore, national regulations should be observed as necessary.
In addition, insulating the piping can prevent water condensing, outside corrosion, unwanted warming of the
medium being transported and unwanted noise production and transmission. Cold water pipes must be insulated
so that the potable water quality is not affected through warming.
The installer is responsible for the correct and professional insulation execution.
It is extremely important to ensure that the transitions, joints and fittings of the installation are sealed/glued to
prevent humidity from penetrating in any condition.
For the insulation of  Stainless Steel pipes only insulation materials which contain less than 0.05% water soluble
chloride ions may be used. Insulation materials of AS quality in accordance with AGI-Q135 are well below this value
and thus suitable for use with Stainless Steel.
Guideline values for minimum insulation material thickness are shown in table 25.